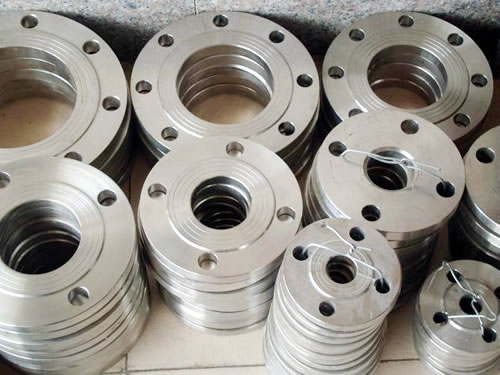 Plate Flange,Plate Weld Flange
Size
Plate weld flange: 3/8"~80"
DN10~DN2000
Pressure
European Series: PN 2.5, PN 6, PN 10, PN 16, PN 25, PN 40, PN 63, PN 100
Flange Facing Types
European Series: Type A (Flat Face, FF for short), Type B (Raised Face, RF for short)
Materials
Carbon steel: A105
Alloy steel: A182 F 1-F 2-F 5-F 9-F 10-F 91-F 92-F 122-F 911-F 11-F 12-F 21-F 22
Stainless steel: A182 304-304H-304L-304N-304LN 316-316H-316L-316N-316LN 321-321H 347-347H
Low temperature steel: A522 A707 Grade L 1-L 2-L 3-L 4-L 5-L 6-L 7-L 8
High performance steel: A694 F 42-F 46-F 48-F 50-F 52-F 56-F 60-F 65-F 70
Standards
GB/T9112-2000
GB/T9119-2000
GB/T9124-2000
JB/T74-1994
JB/T75-1994
JB/T81-1994
HG/T20592-2009 HG/T20614-2009
EN1092-1-2007
DIN2573 DIN2576
BS1560-3.1-1989 BS4504-3.1-1989
AFNOR NF E29-200-1-2007
ISO7005-1-1992
AS2129-2000
JIS B2220-2004
Industrial Processes
Die forging, Machining
Industries Served
Power generation, petroleum, natural gas, chemical, shipbuilding, heating, papermaking, metallurgy
As a renowned plate weld flange manufacturer and supplier in China, produces a wide range of pipe fittings, such as pipe elbows, blind flanges, socket weld crosses and steel pipes etc. All our products are made in accordance with ISO9000, ISO14001, GB/T28001, Q/SY1002.1 standards. Currently, our products have been extensively used in Italy, Belgium, the United States, Chile, Bolivia, United Arab Emirates, Brazil, South Korea, India and so on.
For more detailed information, please feel free to contact us.